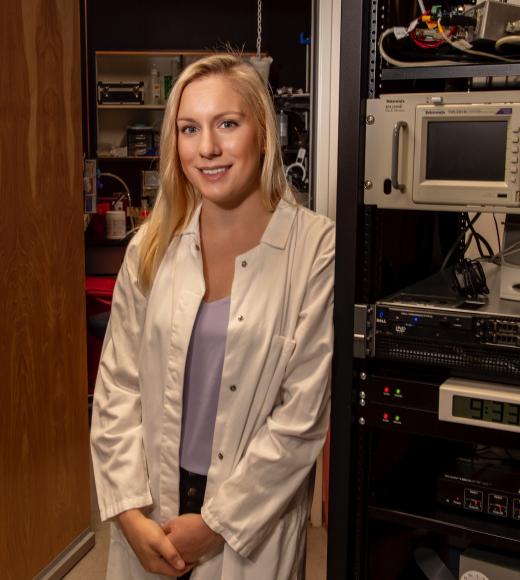 Unit

Center for Neuroscience

Dept. of Neurobiology, Physiology, and Behavior
Bio
Research Interests:
Incorporating both basic and translational neuroscience, my research interests involve the interactions between the basal ganglia and higher order cortical areas, such as the prefrontal cortex. My research focuses on neural networks and connectivity between these brain areas and others, by exploring their role in cognition and visual processing. Specifically, by highlighting the role of synchronized neural oscillations. Other areas of interest include electrophysiological characteristics of the brain and information processing.
Publications:
Lee DJ, Izadi A, Melnik M,

 

Seidl SE, Echeverri A, Shahlaie K,Gurkoff GG.

 

Stimulation of the medial septum improves performance in spatial learning following pilocarpine-induced status epilepticus. J Epilepsy Res, 130;53-63, 2017. PMID:

28152425.
Lee DJ, Gurkoff GG, Izadi A,

 

Seidl SE,

 

Echeverri A,

 

Melnik M, Berman RF, Ekstrom AD, Muizelarr JP, Lyeth BG, Shahlaie K. Septohippocampal neuromodulation improves cognition after traumatic brain injury. J Neurotrauma,

 

1;32(13):1030, 2015

.

PMID: 26096267.

Seidl SE, Santiago JA, Potashkin JA.The Emerging Role of Nutrition in Parkinson's disease.

 

Front Aging Neurosci. 7;6:36, 2014. PMID: 24639650.

Yamada KH*, Kozlowski DA*,

 

Seidl SE*, Lance SJ, Wieschhaus A, Sundivakkam P, Tiruppathi C, Chishti I, Herman IM, Kuchay SM, Chishti AH.Targeted gene inactivation of calpain-1 suppresses cortical degeneration due to traumatic brain injury and neuronal apoptosis induced by oxidative stress.J Biol Chem.13;287(16):13182-93, 2012.

 

PMID: 22367208. 

*

: Authors contributed equally

Seidl SE

, Lance SJ, Chishti AH, Kozlowski DA

. Cortical Degeneration and Contusion Size is attenuated in Calpain-1 Knockout Mice Following a Controlled Cortical Impact (CCI).

 

DePaul Discoveries

, 1;1;4, 2012.

Seidl SE

, Potashkin JA.

 

The Promise of Neuroprotective Agents in Parkinson's Disease.

 

Front. Neur.

 

2

:68, 2011. PMID: 22125548.
Other Links: